RECRUITMENT MARKETING 2017
APTITUDE INDEX REPORT
Talent acquisition begins before an individual even knows they want a job. 
Recruitment marketing is becoming one of the fastest growing areas of HR technology with nearly 70% of enterprise companies planning to invest in these capabilities.
This fast-growing market is also complex and misunderstood. Many companies have very little understanding of what recruitment marketing is and how to evaluate and select a partner.
This report from Aptitude Research Partners:
Clears up misperceptions around recruitment marketing
Defines the recruitment marketing platform
Highlights nine key providers in the space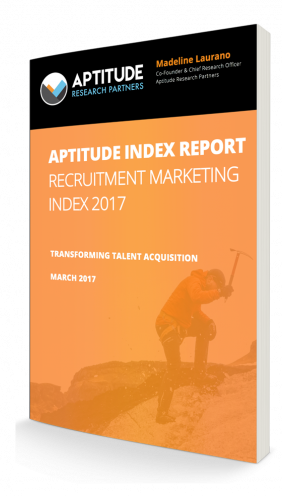 PROVIDERS:
Understand the common Recruitment Marketing buyer profiles and know what you need to provide to meet, and exceed, expectations among this discerning audience.
BUYERS:
Make the best-informed decision when considering a talent acquisition solution for your organization aligned to your needs.

PRESS / INVESTORS:
Read a comprehensive overview of the market as well as in-depth analysis on each of the 10 providers who qualified for this report.